Published: 13th August, 2011
WOLLONGONG SCULPTURES TELL STORIES OF MIGRANTS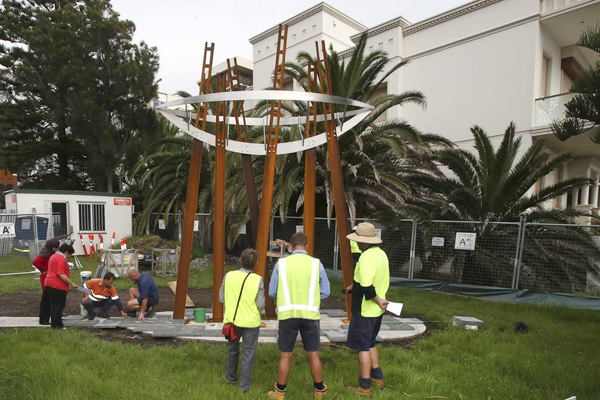 A series of sculptures celebrating the contribution of migrants to Wollongong is being installed at a reserve on Cliff Road.
Work to install the artworks, titled The Migration Project, is continuing ahead of an official launch at George Dodd Reserve later this month.
Visual artist and creator Nerine Martini said a skeletal boat, symbolic of journeys, was the major aspect of the work.
Ms Martini said the structure, which had taken about a year to create, rose five metres and had ladders extending upwards in a symbol of hope.
"It's elevated on these steel I-beam legs that are representative of the steel industry, which is a strong industry that many migrants have been part of in Wollongong," she said.
The base of the structure had an etched granite artwork, which told another "layer of stories" through text and images.
The stories were those of the hardship, joy and enrichment that had come from migrants making Wollongong their home.
The sculpture series also included three recycled ironbark timber posts and steel cut-outs that were made to weather and provide a rustic look.
"It tells stories about the migrant experience and the experience people had when they first arrived in Wollongong," Ms Martini said.
"The dwellings [collection of timber posts] are about the sort of places they lived in, from caravans to sheds and Nissen huts."
Ms Martini said that plaques would be installed to help explain the different aspects.
The work has been funded by Wollongong City Council, businesses and members of the city's migrant community